Connect exclusively with publishers and sales leaders in the blog they've been reading, considering and sharing for more than a decade since 2001.
The Drift is a weekly source of provocative, POV-driven ideas that spark meaningful conversation on the topics that matter most to sellers, publishers and those connected to them. Each week, one ad tech, data, research or service provider underwrites The Drift and shares this unique platform.
A Publishing Event Every Week
On Wednesday, a new or re-edited post is made.
An email alert (co-branded with our exclusive underwriter) goes out to over 4,000 industry subscribers.
Tweets go out to our followers and we distribute the post – and sponsor messages – to our Facebook and LinkedIn groups.
A Clear, Exclusive Ownership Model
Find the 4 week blocks that work with your company's promotional calendar and overlap with your trade events, product launches, white papers and announcements.
Secure your blocks through our simple digital contract process. ($6,000 per 4-week block.)
Supply us with your 300 x 250 creative unit, 50 words of copy for your in-text message, your landing URL and company logo. Swap out creative as you wish.
We do the rest. Yes, it's that easy.
Your Sponsor Message and Ad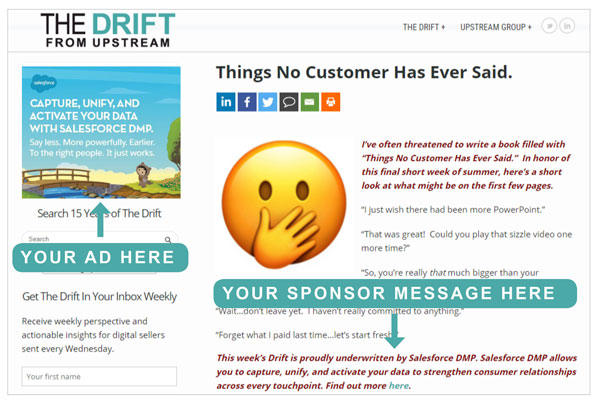 ---
Email Alert with Your Sponsor Message and Logo