Pooja Midha was named President of true[x] in February 2018. Previously she served as senior vice president of digital ad sales and operations for the ABC Television Network, where she was responsible for sales and strategy for all ABC digital sales, encompassing abc.com, abcnews.com, and all new media platform opportunities. She was previously with Viacom Media Networks, where she was senior vice president of digital ad sales for the Music and Entertainment Group. Previously, she served as senior vice president, digital entertainment ad sales and integrated marketing for Viacom.
From 2007 through 2011, Ms. Midha was group vice president, business development, for MTV Networks Digital. From 2005 to 2007, she served as vice president of marketing for MTV Networks International. Earlier in her career, at Nickelodeon, she served as director and then senior director of promotions and ad sales marketing. Ms. Midha began her advertising career at Dow Jones & Company in July 1998 as account executive, was promoted to senior account executive, and then group head of advertising sales.
Ms. Midha holds a B.A. from Lehigh University and an MBA from Columbia Business School. She has completed the National Association of Multi-Ethnicity in Communications Executive Leadership Development Program from UCLA's Anderson School of Management. Ms Midha is also an IRTS board member.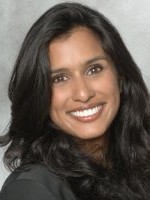 Pooja Midha
President
true[x]