Over this period of quarantine and business disruption,

Doug has spoken with hundreds of managers, individual contributors and customers

and is finding new ways to share what he has learned and to serve the digital sales community. He has shared our strong POV on

sales strategy and leadership

via recent podcasts and online forums. We hope what's been recorded here is useful. Learn more about having Doug speak with your team.


Doug's Interview on iab.THERE: We know it's difficult to be a salesperson right now. Doug Weaver offers strategies and tactical advice to sell in a market in crisis.
AdExchanger, Social Distancing With Friends: For ad sellers dealing with the pandemic's economic effect, the battle is over. The siege has now begun.
---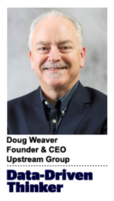 Ad Exchanger, Data Driving Thinking: Fresh ideas on the digital revolution in media.
"No, we are not going back. We are going forward, into a new era of business and watershed change in our industry."
Read 'No Going Back' by Doug Weaver
---
TMI with Kevin Ryan, Breaking the Mold of Traditional Sales Conversations: While companies ease back into the new office structure, it is important to stay educated and hungry for information that keeps you essential to your industry and job.